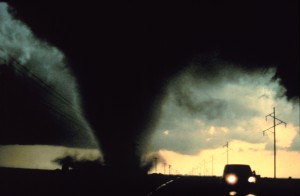 Not many of us can say that we have experienced being inside a tornado, but for one storm chasing crew, this became a horrifying reality.  Recently, dozens of tornados have swept through U.S. cities leaving paths of destruction and death in their wake.  I was particularly drawn to a story reported on Fox News about how Reed Timmer and his crew found themselves literally inside a tornado.  I watched the video footage stunned that anyone could experience such an encounter and live to tell about it.  Timmer described the experience as "terrifying."  He then began to describe his vehicle and how it was specifically designed to handle extreme weather.  It weighs over 10,000 pounds and has hydraulics built in to allow it to drop down flush to the ground.  This acts as an anchor whereby winds are unable to go underneath to lift it.  In addition, it has a further anchoring capacity to drill augers 6 inches into the ground.  The sides are also treated to withstand debree hitting the vehicle. There was one statement that Timmer made that I found very powerful.  The reporter asked him if there is ever a time when you say "we should get out of here?"  Timmer replied "every time, but you have to trust in the design of the vehicle."
Though we may not be able to comprehend what it must have been like in that moment for this storm chasing crew, as believers, we often find ourselves in situations beyond our natural capacity to cope.  Whether it is dealing with sickness, financial trouble or marital tension, we all have moments in our lives when we say to ourselves "we should get out of here."  After listening to Timmers account, I am reminded of Psalms 91:1 where it says "Whoever dwells in the shelter of the Most High will rest in the shadow of the Almighty."  As Timmer learned through one storm after another to trust in the integrity of his vehicle, we also learn to trust in the integrity of our Father in Heaven who tells us that He will litterally shelter us from anything that would come to harm us.  When we realize and let go of our own inability to save ourselves and just rest in Him, we release ourselves from the cares of this world and focus on Him.
If you are like me, there are things in your life beyond your control.  There are things that cause you a great deal of tension and anxiety.  What if we were truly able to lay those down and allow the power of the Holy Spirit to be the source of whatever is needed?  Some of us have been believers for a short time and others for a lifetime.  But as we journey with our Father, He establishes Himself in our lives and we learn with every day that we can trust Him completely.
Prayer
Hey God.  Thank you for showing me this story and reminding me that just as Timmer trusts his vehicle, I can completely trust You.  You have NEVER let me down, though I have let you down more times than I can count.  You teach me how to trust and therefore rest in Your wholeness.  I desire to be complete in You.  Teach me Your ways and teach me to love them.  Give me wisdom for today.  Words can't describe my love for you.  Thank you for finding me.
Link to Video:  http://video.foxnews.com/v/2395642926001/what-its-like-to-be-inside-a-tornado/
Share This Page